Nordic Naturals Arctic Cod Liver Oil Liquid 20% OFF
Description
Nordic Naturals has always used 100% Arctic cod livers in our cod liver oil (CLO) formulas - no fish body oils or synthetic additives are ever used. Arctic cod (Skrei) has the highest DHA, vitamin A, and vitamin D content of any cod species. Each teaspoon provides approximately890 mg of the essential omega-3 fatty acids, EPA and DHA. Our patented, flavoured Arctic Cod Liver Oil liquids are perfect for customers who don't like to swallow pills, and they're so tasty it's hard to believe they're from fish.
Suggested Use
One teaspoon daily, with food, or as directed by your health care professional or pharmacist.
Supplement Facts: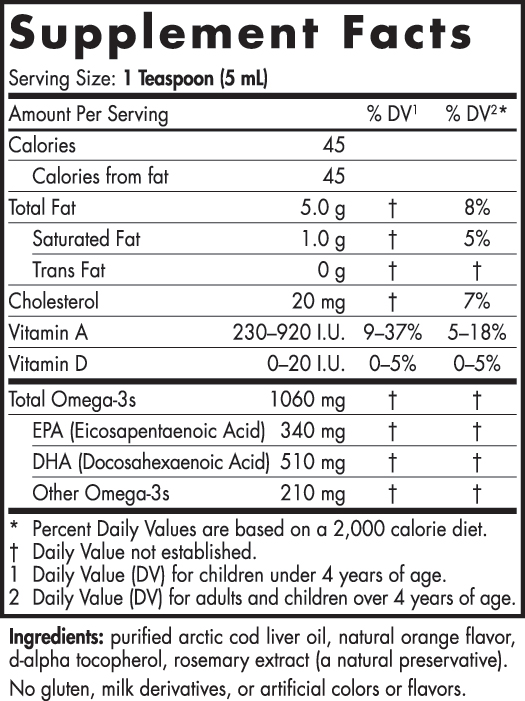 About the Company
Nordic Naturals was born in Arctic Norway where founder Joar Opheim grew up and where fish oil is a part of everyday life. When he came to California in the mid-1980s to complete his MBA Joar was unable to find the quality fish oil he relied on to manage his old gymnastic injuries and had to consistently bring bottles from Norway_?filling his suitcase on trips back and forth.
Driven by his Norwegian heritage knowledge of fish oil and love of science Joar was inspired to contribute to advancing fish oil quality and industry standards. Guided by his personal mission to bring high-quality fish oil to the world Joar has developed several patented fish oil technologies that include flavoring taste delivery and processing_?shaping standards for a country and industry that had few guidelines in place.
Values-Driven & Research-Based Innovation

Bringing forward a new definition of fish oil quality as it relates to purity freshness taste dosage and sustainability Nordic Naturals' leadership has also shifted the model of how to conduct business truthfully and authentically.
Nordic Naturals incorporates ethical and socially responsible practices with regard to environmental consciousness corporate transparency philanthropic partnerships and education_?all of which are integral to fulfilling their mission of correcting the global omega-3 deficiency.
In line with these core values our dedication to innovation is grounded in scientific research and guaranteed by participation in peer-reviewed clinical studies by leading experts worldwide. With a reputation for efficacy and potency Nordic Naturals fish oils are regularly chosen by independent research institutions and universities such as Harvard Columbia Duke UCLA and Cedars-Sinai Medical Center_?with 25 published studies and more than 30 in progress. Distributing to over 30 countries on 6 continents Nordic Naturals offers more than 150 products in a variety of flavors concentrations and delivery forms.
Nordic Naturals' continued innovation is proof that when values are aligned with action great things can happen_?a commitment that remains absolute.